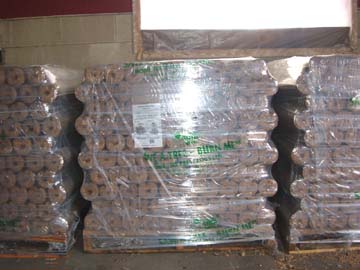 Loose (1-379): $1.65 per log CASH or CHECK
($1.70 Visa or MC only/no debit)

1-3 pallets: $1.30 per log/$494.00 per pallet
CASH or CHECK

4+ pallets: $1.25 per log/$475.00 per pallet
CASH or CHECK

CREDIT CARD PRICES: $.05 additional per log/or $19 per pallet
Pallets contain 380 logs (see photo on right).


Once again we will offer free pallet storage through March 2015 for paid logs!

Note: 268 logs equal approx. 1 cord of wood in BTUs. Due to BTU output of logs, there is no sales tax as there is no sales tax on cord wood.

Delivery
For tailgate delivery, area must be on hard, flat surface such as tar, concrete, or plywood. Delivery can be made directly into your garage!
We may have others in your area which will defray delivery charge. Shipping is F.O.B. 44 Mead St., Leominster, MA.
Great news! You may pick up logs at our warehouse at 44 Mead St., Leominster and drive in to load!!! Warehouse Pick-up Hours: Saturdays, October 2014 - March 2015 from 12-3 pm. Pick up on all other days is by appointment only. There is no charge to load your pallet at our warehouse.