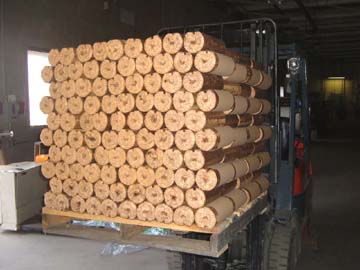 You've tried the rest, now try the best! Compare Home Fire Prest Logs to BioBricks, Envi Blocks, Smart Logs, North Idaho, Power Logs, Bioflamme and other alternative wood fuel. The logs burn cleaner and longer than cordwood; and burn up to 12 hours in a wood stove! The logs resemble a pellet that is 5 pounds but can be used in a woodstove, fireplace, or patio pit. NO WAX or BINDERS. You can even cook over it. IT'S JUST WOOD!

Due to BTU output of our logs, there's no sales tax!
Logs can be DELIVERED into your garage. No restacking necessary! Call or email us for delivery rates and details.
Saturdays, Noon-3:00, October 2015 through March 2016, you may PICK UP logs at our warehouse and drive in to load! On all other days throughout the year, pick-up is by appointment (call or email).